Summit Labradors
Beth Johnson
Meet the Breed: Golden Retriever
BIS Magazine USA June 2021 issue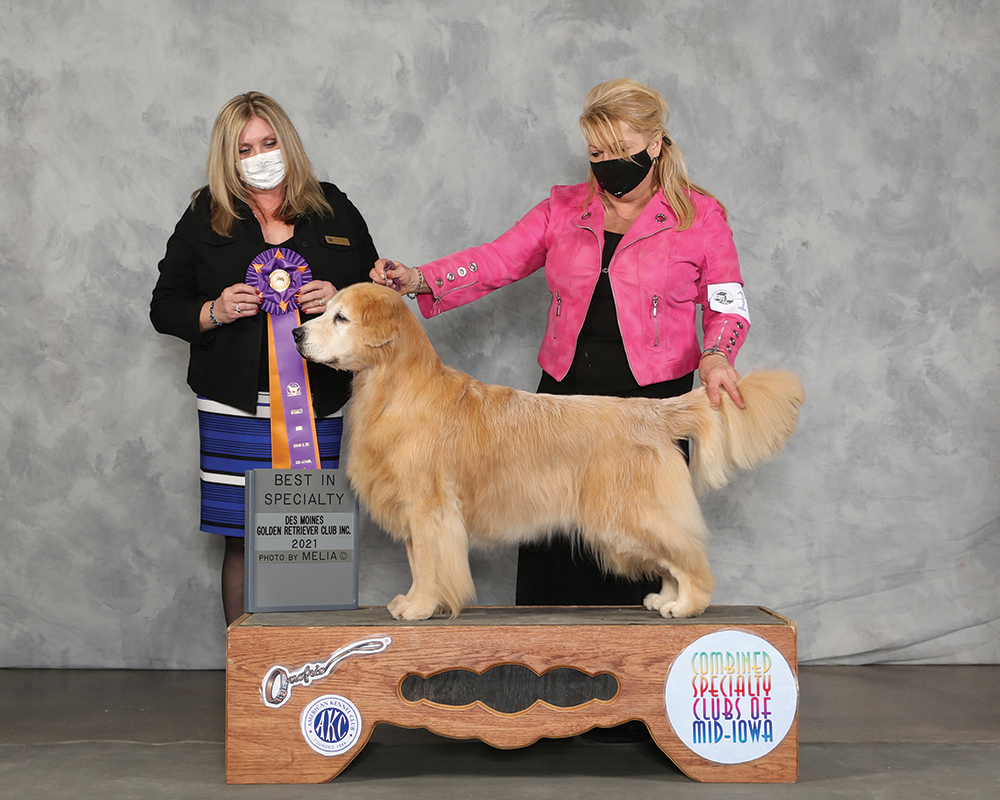 Q: Can you please share with our readers about you background in dogs. When and how did you start breeding Goldens?  How old were you and how did it all come about and did you have mentors in the breed? 
A: I am the only member of my family in the dog game.  I was 11 years old when I observed a friend of my sister training her Beagle in obedience; this really intrigued me.  I loved dogs, all dogs, and at that time we had a farm dog that was a Collie mix and an English Springer Spaniel.  Those two dogs learned basic obedience.   I then saved my allowance and bought a Golden Retriever puppy from an ad in the local paper.  I acquired a CDX obedience title on her.  While at the shows, I observed the conformation ring and I sought out Ellen Manke from Amberac Goldens along with Sharon Seeber from Klondike kennels.   A Klondike bitch was my first show dog and achieved nine single points.  I was a sponge observing all the breeders and handlers.  Deborah Koopman from the Miramichi kennel in Center Point, Iowa became my mentor as I just loved her dogs.  Her two main stud dogs, Ch. Jayba's Golden Cadillac, and Ch. Beaumaris Miramichi Duran were the dogs I decided to work from.  I was around 16 years old at the time.  I also was awe stricken watching Mary Burke show her beautiful Asterling Goldens.  They had an instilled confidence and carriage about them like no other.  The most notable quality was their impeccable foot timing and how light they were on their feet. My first breeding was with Chato; Klondike's Chato de Shamrock.   The litter was stunning. I bred to a well-known stud dog and I sent the majority of the litter to show homes on full genetic guarantees.  To my dismay it was my biggest disaster ever.  I refunded almost the whole litter due to mild hip dysplasia.  Not an easy thing to endure at 16!   It made me learn to study pedigrees and how different pedigrees work and combine together.  I bred Chato two more times after that and those clearances came out great.  
Q: What is the meaning behind your kennel and your kennel name? How many litters have you had so far? When did you breed your first litter?
A: Chato's first litter carried my kennel name, Summit.  I decided on this name for two reasons.  The summit is the peak, the top of a mountain, the pinnacle.  I always dreamed of living on a mountain or hill overlooking my Golden Retriever prodigy. I try to breed three litters a year.  In my 20s and 30s I was lucky to have two litters a year.  Now I have been breeding Goldens for 37 years and I am closing in on having bred 100 litters.  Feeling old at the moment–just saying! 
Q: What is your breeding policy? Do you work with other kennels, and does this consist of having dogs in joint ownership? Do you use stud dogs from other kennels or do you prefer to use your own dogs?
A: I am easy to work with and try to use stud dogs from an array of pedigrees.  I like to have new blood coming in, so I don't get boxed into all the same thing.   I co-own boys of mine mostly for breeding rights and I like to show in the bred-by exhibitor class.  I use my own stud dogs when I am trying to lock in on a certain dog in the pedigree; this is to pull its qualities and genetic coefficient.  
Q: Which dog do you consider the foundation of your own breeding?
A: Miramichi's Summit Shandine would be my foundation bitch.  I started with two totally different pedigrees.  When I look at the dogs I have today they all come down from her and only a small percentage come from the other.  Due to overall looks, clearances, and longevity I am so happy I did not put all my eggs in one basket. 
Q: What kind of selection do you prefer in your breeding program linebreeding, inbreeding or outcross, and why?
A: I am going to answer all of the above.  Line breeding is a wise thing to do. I like to line breed on two or three dogs in a certain pedigree to pull their good qualities although some of my most successful breedings have been outcrosses.  For example, Paris, Ch. Summit's Carrera Dom Perignon OD SDHF had a ten-generation coefficient of inbreeding of 5.28% and her half-brother Hobo, Ch. Summits Mr. Bojangles OS SDHF had 4.62%.  The breed average is over 8%.  Both dogs are multi best in show dogs, multiple specialty best winners, and national specialty winners.  I think it is interesting how these two dogs, Ch. Summit's Mr. Bojangles and Ch. Summits Carrera Dom Perignon, were awarded best of breed and best of opposite sex respectively at two national specialties and they are both an outcross.  I am sure it has a lot to do with their mother, Summits Shadow Dancer OD SDHF, and the bitch line strength in the pedigree.  The closest I will breed is half-brother to half-sister–to bring in the strength of the grandparent I am breeding tight on.  This has been successful for me also.  I like to line breed a couple times, then outcross, then do another line breeding or inbreeding and so forth.  I never want to get myself cornered into my pedigree where I don't know where to breed.  I have seen this be a huge flaw for many breeders.  I have noticed when a pedigree gets too tight the odds are that you get one great dog.  My observation is that then when you breed that great one using an outcross the genetic clearances decline.  It is all such a fragile balance.  
Q: What would you say was your greatest achievement as a breeder so far?
A: There are so many great memories, but I would have to say the answer to this is the sole accomplishments of BIS BISS GCHP2 Summits Emery Its In the Bag OD SDHF, aka Chloe.  Chloe was the number one Golden all systems for two years.  She is the top winning specialty best in show winner with 54 specialty wins. She won her most recent specialty from the 12 and over veteran class!  She is in the number two spot for all breed best in shows with 34 to her name.  She has won the national, the top twenty, best of breed at Westminster and the Eukanuba shows.  She has won the bred-by group at Eukanuba and several multiple regional specialties. She owns the most grand champion points of any Golden Retriever to date. She went BOS at Royal Canin this past year just weeks shy of her twelfth birthday!   She also has proven herself as an incredible dam with 17 champions and counting. Her get includes multiple all-breed BIS, BISS, and Golden Retriever Club of America SDHF accomplishments. I am in the best place ever on overall genetic clearances with this line.   The best thing about Chloe is her incredible fun-loving silly personality.  I see so much of her grandfather Hobo, in her. They were best of friends, so I am sure he rubbed off on her.  He was a goof into his teenage years also. 
Q: What is your favorite show to attend and why?
A: I would have to say Eukanuba now the Royal Canin show held in December in Orlando, Florida is my favorite show.  Nice big rings, air-conditioned building, and a great location for this show.  I love seeing people I have not seen in ages. There is a plethora of incredible places to wind down and to wine and dine in the evening.  Not to mention the weather is normally pleasant and lodging is close and convenient.
ABOUT THE BREED
Q: How do you interpret the standard? Do you accept that other breeders have different point of views as to what the Golden should look like, or is there just one correct type?
A: You are always going to have different interpretations of a standard, especially the Golden Retriever standard.  An English style Golden is way different than the typical American Golden.  Yet we are supposed to all reflect one standard.  In fact, I recently heard my inner voice say "That is a really good English Golden.  If I were to judge, it would not be denied". I will admit I don't care for the light cream-colored coat, but the body, front, and gorgeous head with pitch black pigment was stunning. This dog moved honestly, but not with the more open gait that I much prefer.  The standard says athletic and well-muscled.  My interpretation of that is a dog with a hard back and open gait that does not tire easily. 
Q: What three qualities do you think are the most important when you look at Golden?
A: First and foremost is temperament.  Goldens should be sweet and willing to please.  Aggression of any sort is a huge no-no!  They should not be nervous, anxious or overly busy either.  Puppies can be given some forgiveness on the later.  Second, I want to see a dog in excellent working condition.  I really dislike holes in the topline or a rolling topline in a dog over a year old.  They must have a petty face with a more open eye. Squinted, drawn back eyes or loose eye lids are very undesirable.
Q: Which faults would you not tolerate in your breed?
A: Aggression is intolerable.  I think a lighter eye is very undesirable; dark brown to almost black is where it is at.  Tail carriage can make or break a dog.  I dislike a tail that is carried below three o'clock.  The tail is supposed to be used as a rudder and it should be thick and strong.  A high flying, flag is just as undesirable; straight off the back at three o'clock up to a two o'clock carriage with a little upward swoosh is very pretty.  It should be a smooth flow from the neck to the tip of the tail and reflect a happy dog. 
Q: On the health front there is good work going on to address health problems. Many breeders test their dogs, but is there more work to be done? What medical test do you consider necessary to have before mating your Golden?  How would you rate health in the breed overall? 
A: There needs to be more studies done on cancer.  Yes, it can be environmental, but we are seeing a huge wave in certain pedigrees getting cancer early in life.  When I started in this breed 13 was the average life expectancy and now it is ten which is sad.  I think we should have hip, elbow, heart, and eye clearances done before we even think about doing a breeding.  We are doing other clearances now also so I go with the flow and do what is required.  I hope the trend is not accelerated to a point of eliminating a dog with desirable qualities due to people being hypochondriacs about issues that are non-disabling.  I have seen the breed have its ups and downs with orthopedics, eye issues and heart issues.  I think we are sitting in a much better place now due to screening and not breeding the affected.
Q: How has the breed changed over the years since you first began in the breed?  WCould you say that the breed has evolved for the better or for the worse? 
A: I believe fronts have improved vastly since the eighties. We seldom see fronts with hackney-like movement anymore, crooked front legs, or dogs way down on their pasterns. Rears have improved on angles as they are more let down and shorter in hock.  We are still running into too much rear angle to front ratio.  Overall type is starting to lack again.  Goldens are retrievers and are meant to be well sprung in rib.  There are way too many dogs that are tubular which is not a good trait as it affects lung capacity.   I believe in the endeavor to create more leg in our beloved breed, we have lost ribbing and angles on both ends.  We are better in some areas and lacking in others.  
Q: Can you, in your own words describe an ideal Golden?
A: An ideal Golden should have a sparkle to their eye showing their enthusiasm and willingness to please.  It should be in excellent working condition with a level solid top-line. When gaiting I want to see a beautiful footfall with nice reach and drive.  This dog should have a good deal of post sternum and return of upper arm.  When it sits, the front should protrude making it look like the aristocrat that they are.  I like a nice double coat with texture on the outer coat creating a nice tight jacket to the body.  Waves are appreciated.  Bring on the furnishings; they are like frosting, enhancing a Goldens overall appearance with their flowing mane, pants, and tail.
Q: In order of importance how would you place- movement, head, coat, substance and type?
A: This is a difficult question.  Type envelopes so much including structure, so it is first.  With good structure comes good movement. A Golden is an athletic breed so movement would be second. Third is a pretty face since it is the first thing that you see.  Substance and coat would be last for me.  I pick puppies in this order as well.  
Q: Please name 3 of your all-time favorite winners that have been bred by you and three neither owned nor bred by you.
A: My favorite dogs that I bred are Ch. Summits Mystic Rhythms OD SDHF (Mystic), Ch. Summits Mr. Bojangles OS SDHF (Hobo), and GCHP2 Summits Emery Its in the Bag OD SDHF (Chloe).
My other favorites are Ch. Twin-Beau-D's Hi Speed Chase OS SDHF (Chase), Am/Can Ch. Jayba's Golden Cadillac OS SDHF (Turk), and I must mention two girls that are a close tie—Ch. Asterling's Tahiti Sweetie SDHF (Brooke) and Ch. Krishna Karmiloch Trouble To SDHF (Trouble).  These two girls are so opposite of each other but are great in so many ways.
Q: What advice would you give to a new person in the breed?
A: If you have a set idea in your heart on the ideal Golden Retriever stick with it.  It worked for me.  I did not switch the type of dog I liked with the changing fads in the breed.  Many fellow breeders and handlers have told me this.  There is a careful balance with type, temperament, genetic clearances and longevity that play a huge roll in your breeding decisions.  This is definitely a delicate balance.  You must pick and choose what is most important as you go and sometimes you have to be more lenient in some areas.  Breeding can be very rewarding, but it is not for the faint of heart.