The Wonderful World of Allison Alexander
The New Normal
by Allison Alexander
BIS Magazine USA June 2021 issue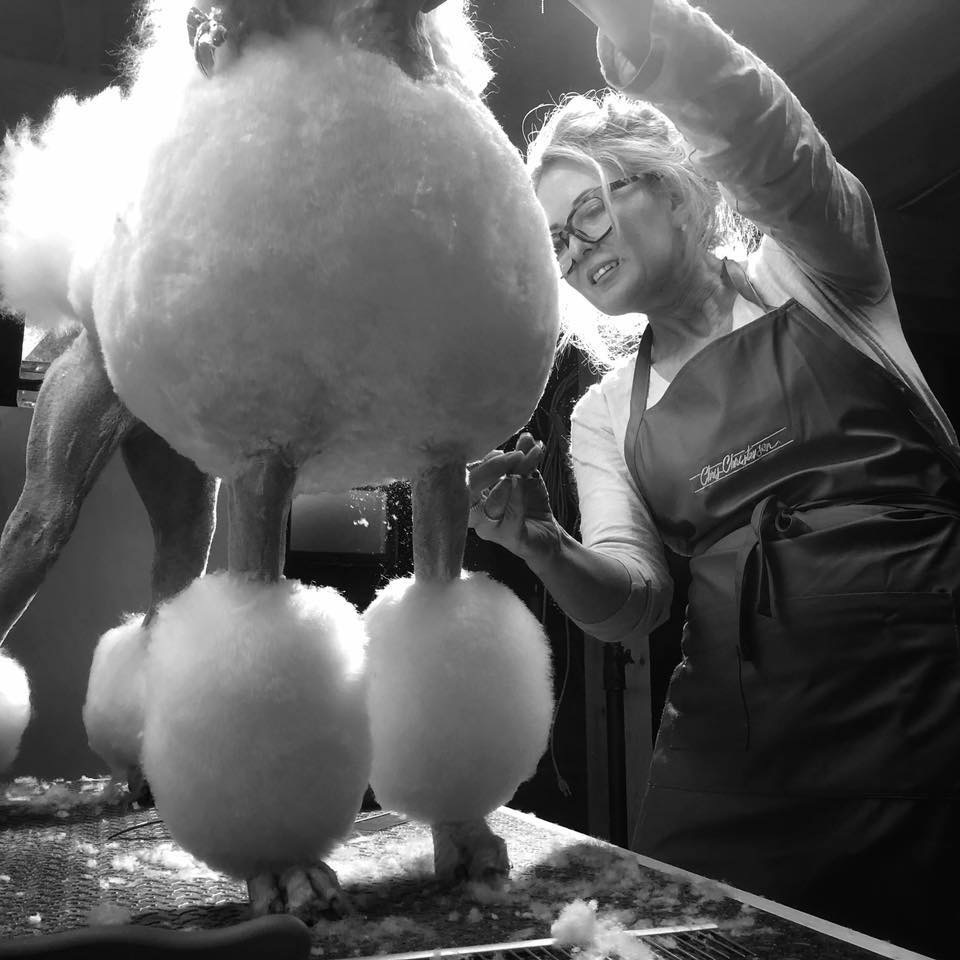 Believing that you should always do what you love, Allison Foley became a professional handler in 1987. She has been presenting Canada's (and the world's) top dogs ever since. With more than 550 All-Breed Best in Shows, she was proud to have been highly awarded at such prestigious shows as Crufts, the World Dog Show, Westminster Kennel Club, and the AKC Invitational. She has also had top dog all breeds in Canada on three separate occasions. All three dogs are still record holders.
In addition to her wins as an all-breed handler, Allison has spent more than thirty years perfecting the art of presenting one of the dog world's most difficult breeds to master–the Poodle. Today, she is internationally recognized as one of the world's most talented and experienced Poodle handlers. Allison has presented seminars on grooming Poodles all over the world. She is also the creative educational advisor and specialist for Chris Christensen Systems.
Allison has proven that hard work, dedication, and passion can take you everywhere in this wonderful sport. In 2017, she launched Leading Edge Dog Show Academy, the world's first online dog show training school. Her mission is to help mentor a new generation of dog show enthusiasts through innovative video-based grooming and handling lessons. LEDSA has won the award for best online education each year since it's inception. Allison looks forward to working with enthusiastic students as they perfect their skills on the way to the winner's circle.
By now most of you know that I live in Canada. Canada spans roughly 10,000,000 square kilometers (approximately 6,200,000 square miles) and has a population of less than 38 million people. This translates to Canada has one of the lowest population densities in the world.  As much as there are many memes and cartoons of Canadians hidden in their igloos don't let that fool you. More than 80% of us Canucks live in cities, with more than 1/3 of us living in just three cities Vancouver, Montreal, and Toronto.
It was cities where the effects of COVID-19 were most acutely felt, especially during the early days of lockdown. Once vibrant bustling cities were basically shut down all over the world. No one was going to the office, you couldn't go shopping, there was and still is zero nightlife. Take into consideration as well theatres, concert halls, museums.  Absolutely no sporting events. No dog shows.  Life, and cities went very, very dark.
Many said maybe we shouldn't have cities. We should all move out of them-that is how we are going to survive. Live in little pockets all around the world and no more urbanization.
As well as a world-wide stoppage of dog shows and all dog sports there were no handling classes, no puppy classes, no agility, nose work, hunting trials. We couldn't go to our friend's house and socialize a puppy.  Even the veterinarian was a curbside pick-up. All of this for the better part of last year and where I live it continues into the summer months.
As a result of no dog shows for a year many people are asking do we even need dog shows? Do we need to gather humans and dogs from all over the world and bring them together with the risk of getting sick? Well, we are a resilient bunch.  More importantly to me when we do all get together real human energy abounds! To me that is so inspiring.  Knowledge of Poodles gone past, of pedigrees and people just coagulates together in crazy little places like the Poodle Club of America, Westminster Kennel Club, Crufts, and many more.
Do I miss the events?  The winning? The losing? The excitement? Of course, but what I miss more, what we cannot live without are the connections.  After the hairspray has been bathed out, the last dog has sighed and curled up to sleep what means the most is the wine, the friendship, and most of all the stories.  Old or new. Raunchy or completely PG, all about the dogs and their humans.  That is what I miss.  That is why dog shows have to come back.
Luckily for us dog shows are not going to become extinct. Why? Because we need to thrive. We need to have that crazy energy that only spraying up 14 Poodles of three different varieties in a couple of hours at Crufts can bring.
My question for you to ponder now is can our dog world actually be better than ever after the pandemic?
If the early days of dog showing in the United States is any indication, then the number of entries will get larger and the competition fiercer. For many years now all the experts have agreed that having too many dog shows made for diluted entries both in quantity and in quality.
My favorite class at PCA to compete in or watch is Standard Poodles Open Females.  It is always so competitive.  You know that any of those dogs in the final cut could and usually do go onto win a Best in Show. I cannot wait for this year. Imagine a PCA with not just one year's crop of open bitches but two years of them!  That is worth the price of admission right there.
Some advantages we have had is the time to see our young dogs grow up without the stress and pressure of entering them at a dog show.  Even if we want to "hold them back" or "wait for PCA" we often enter a local show. Maybe it is a show we think we need to support.  We have all had some more time to look at what we have at home, perfect some training, perfect some grooming techniques and really take stock without outside influences.
We are learning to appreciate that we can train and socialize our dogs by ourselves. That we can do a lot more things outside with our dogs than we previously did.  We started those extra walks and training sessions in the cold mostly out of necessity, but we have learned to love it, and so have our dogs.
We have also made the most of those small windows of time when we were allowed to socialize. and we've learned that socializing from six feet away even with our dogs is not such a bad thing.
Our dogs have learned to love being at home with us and not always having to go to a dog show. Being able to curl up on the couch and watch Netflix and chill is heavenly.
We have learned to spray up a Poodle and trim it not for the dog show, but for the pure indulgence of how our gorgeous Poodles look.
When we all get to travel, I think it will be easier. The commute to the dog show is not going to be as congested.  Airports will be easier to navigate.   There is going to be more resiliency and compassion among us all.
The pandemic has taught us to learn from each other. In an industry and hobby where not everyone is very tech savvy we have taught each other how to get on a Zoom or Skype call. How to face time our way through a grooming project. Those things we can carry with us, expand upon, and use as life and travel opens. They also have the added benefit of bringing the world together in a different, interesting and much needed way.
In many places around the world people are still suffering from the pandemic or the effects from it. Vaccines are controversial, slow to roll out in some countries and abundant in others.  We have survived.  We will continue to not only survive but thrive. I truly believe that as we come out on the other side of this pandemic that one of the things that will emerge is the second renaissance of the modern dog show era. I cannot wait.