James Moses

Living Legend
by Anne Tureen & Mary Marshall
BIS Magazine USA June 2021 issue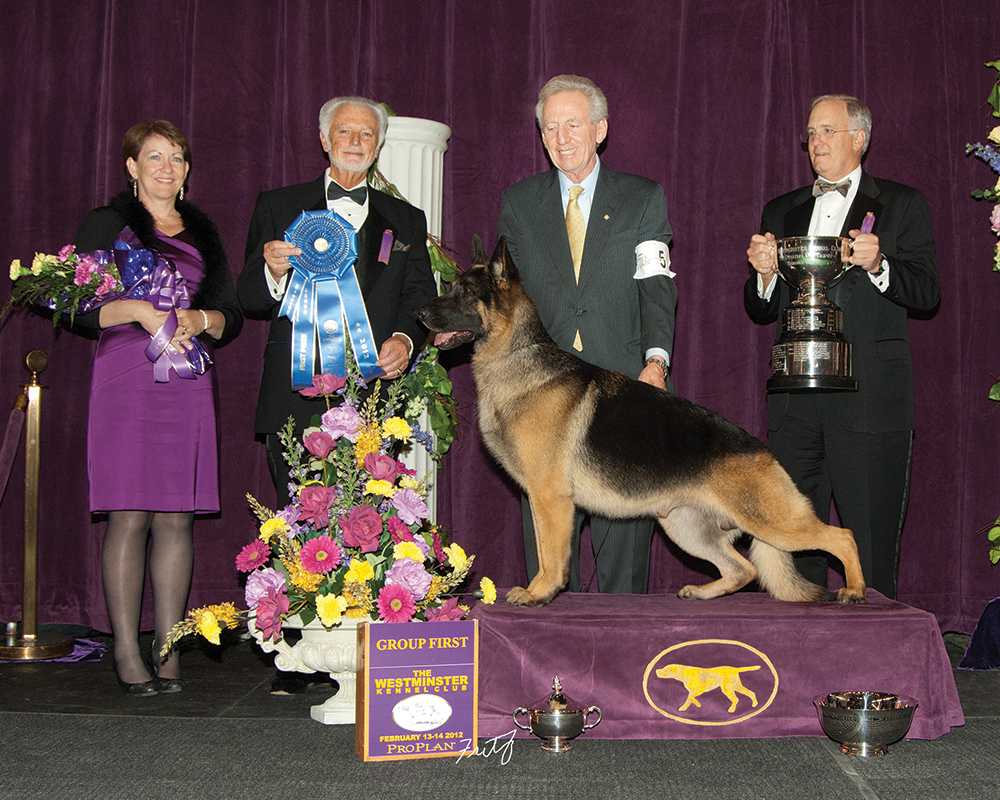 Two things count in a great handler or judge: experience, and an eye for a dog. Mr. James Moses, Jim in the dog world, has both in excess. His relaxed and transparent manner has occasionally raised some eyebrows, but he speaks with absolute clarity concerning his priorities in dogs.
Moses has been hooked on dogs his entire life. His father bought his first German Shepherd as a gift when he was nine years old, and his mother bred miniature poodles. Moses took the Shepherd to an obedience class at the Air Force base close to his home in Niagara Falls, New York, and within time found himself working as a dog trainer.
Moses started handling at the age of 13, and by the age of 19 he had shown his German Shepherd to the position of top dog all breeds in Canada. While still too young to show dogs in the United States (at the time professional handlers had to be 21) Moses, who traveled with his general contractor father from state-to-state, amazed tourists with his German Shepherds as they responded to his hand signals.
He eventually gained a foothold in the United States and established himself as a successful handler, traveling with show dogs and showing them in the ring. Over the years he has accrued over 1,000 Bests in Show titles in the U.S. and Canada, including the top win at Westminster. He has led dogs of over 50 breeds to their championship titles, but his own breed is the German Shepherd which he both breeds and handles. Mr. Moses has been an AKC judge since 2011.
The Breed
Q: Mr. Moses is there a German Shepherd from your breeding which you can consider your greatest achievement?
A: Ch. Kaleef's Genuine Risk and her dam, Kaleef's Valle, ROM. Genuine Risk is in the 100 BIS club and her dam, Valle, is the top producing dam in the history of the breed.
Q: While opinion in the USA prefers to remain independent of that in the breed's native country, do you feel there is common ground to be found with the views of the German Shepherd Association (Verein für deutsche Schäferhunde)?
A: The American fancier would never agree to the mandatory training titles needed to place highly in the German system. Many of our better breeders have used German import bloodlines in their breeding program to great advantage. This has increased conformation, movement, type, and versatility.
The German Shepherd Association, which is the breed club founded in Germany in 1899 by Max von Stephanitz and his colleague, Arthur Meyer, set the standards of the German Shepherd dog breed. The Germans incorporate the SV rating system which can change based on the age and qualification of the dog, and are received on both the local and national level (Sieger show). Awards for beautify are listed before the official name of a dog, and working titles are listed after the dog's name.
Q: What are your favorite attributes of the German Shepherd?
A: I think that the most important part of the German Shepherd, and the thing that I fell in love with as a child, is the fact that they had complete dedication to me and always wanted to please. They're probably the most biddable dog that I know of. By that I mean they want to do your bidding, no matter what it is you ask of them, they are ready in a second to do that work. So once they've learned how to do that bidding, they're willing, anxious and desire to constantly please and so I think that that's probably the most important part of the German Shepherd. I was born and raised in Western New York. As a teenager, we would go hunt pheasant and it didn't take them long to learn to flush him and retrieve the birds.
Q: As a breeder, handler, and judge what is your perception of today's German Shepherd?
A: Common sense should apply in all instances. We have improved in some areas and have gone too far in others. Many of our dogs have become anatomically non-functional for what this breed was developed to do! It seems that many of our exhibitors have an incorrect conception of side gait for the German Shepherd Dog. The last thing our breed was developed for was to look fancy gaiting against the white wall at our national specialties.
For every inch a dog's front feet go up in the air, they should be penalized one inch of front reach. At the end of the push from behind the stifle should straighten out and the hock should follow through. Just because a dog's rear toes turn up (while his hock is still leaning forward and his stifle still has a large bend in it ) That is not correct follow through behind. When and how often have you seen dogs judged at a fast walk at our nationals? This is a tending breed, not a running breed.
Q: Which old world country is your favorite place to judge?
A: I rarely accept judging assignments outside of the country. So, I would have to say that judging in the United States is my favorite place to be.
Q: The German Shepherd standard is an exact and technical document, do you feel that new judges coming to the breed are prepared well in the USA and Europe? Which country would you say has the best judges for the German Shepherd?
A: Overall I prefer our American judges. Most are very knowledgeable on the standard and have the eye and education to choose the most deserving dog.
I have lived through many fads in this breed but we always seem to come back to the correct structure — balanced movers that are suitable for people in all walks of life.
Q: Which country do you feel has the deepest quality in the GSD?
A: Germany and America both have incredibly deep quality in the multi-purpose German Shepherd.
General questions and the changing scene
Q: Looking back, are there some career decisions you would revise?
A: I would have spent more time with family and less time on the road. In the profession as a judge or a handler this is probably significant for many. I have pretty much spent my whole life dedicated to handling, and now judging. I have an intensive background and have shown probably 50 different breeds to championship levels. Handling has been my whole life and judging is just a continuation of it, and unfortunately it requires constant travel. Once in awhile it's nice to just take some time off and go fishing.
Q: Which are the moments handling or judging, most emotionally significant for you?
A: When we won BIS at Westminster in 1987 with Ch. Covy Tucker Hill's Manhattan, who became the #1 male show dog of all time (#4 overall), with 201 BIS. I also exhibited Select Ch. Altana's Mystique, listed in the Guinness Book of World Records as the top-winning show dog of all time. Mystique earned 275 all-breed BIS, as well as 30 specialty wins and select ratings at the US National. I also exhibited two more of the top 20 show dogs of all time, both members of the coveted 100 Club, including our home-bred Ch. Kaleef's Genuine Risk. Winning BIS at the Garden in 1987 was exciting, BIS at the AKC Centennial a real thrill, but winning Westminster was a relief.
Q: Dog breeding and showing usually must answer to one of two criticisms; either that it is an elitist activity viable for the wealthy, or that making a living from dogs influences the ability of a person to be objective in selling puppies, handling, or especially, in judging. Where is the equilibrium between the two realities?
A: The moment a person gets a really good dog, they realize the game is not as political as they once thought. When judging, you show to the fancy the knowledge you have gained from your time in dogs.
The old time, wealthy breeders are not as dominant as they once were. We don't have as many large kennels as we did 40 years ago. The average, smaller breeder can be competitive today. It used to not be that way. So there is a balance.
Q: Winning and losing- do you see consistent sportsmanlike behavior from people regarding their own dog, and are we as objective today about our dogs as before? Are we good winners and losers?
A: Exhibitors are pretty much the same as they always have been. It is awfully hard for an owner to be objective when their dog kisses them good morning every day. Many exhibitors are particularly good sports, at least in public. It also depends on what they know about the breed, the standard and how the dog should move and look like in accordance to the specific breed requirements. When they measure that against their own dog they should be able to see the positive and negative traits in front of them. Whether it makes them objective depends on the individual. I have always been amazed that when an exhibitor finally got a really good dog, how quickly they stopped thinking everything was so political! We have quite a few judges just looking to find the next really good one.
Q: Conduct at shows- would you say showing is a 'gentlemanly' sport- should it be?
A: Dog showing is a competitive sport, and you must have the drive to stay in the game for the long haul, but sportsmanlike conduct is always expected so it should remain that way.
Q: Interpreting dog shows as a sport seems to contrast with the true objective of judging which is to advise breeders and shape the direction of the breed. Do you feel people are attending shows 'to win' or to talk constructively about dogs and seek guidance from an expert judge?
A: Both. There is always a reason to seek out a judge and talk about the breed, and everyone wants to win. You also must be open to opinion and change. Sometimes standards get revised and it is hard to stay current. You have to adhere to each breed and its written standard of the ideal dog. There has never been a perfect dog but you look for what closely resembles that ideal dog. Each year it is always a learning experience for judges, owners, and handlers.
Q: With the large number of shows on the roster, and the close competition for numbers of wins, this sport has become increasingly intense. Not only do the dogs spend most of their youth confined in crates and on the grooming table, and people are equally under pressure and all involved rarely have a day for playing with their family. Is this a trend we should reverse? If so, how can that be accomplished?
A: Many dogs finish their championships and then go home. If a dog is going to be shown as a special, most handlers make sure the dog gets enough exercise to stay in fit condition. How many shows a dog competes at is a personal decision depending on finances and desire.
Q: If you could serve as AKC fairy godfather for one day, what changes to the institution and practice would you make?
A: I would do away with the limited registration. I feel this has been one of the reasons for a drop in registrations and involvement in AKC shows.
Q: What advice would you give to someone new to the sport of showing dogs?
A: Purchase the best dog of your chosen breed that you can and devote the time and effort necessary to keep it in good condition and to have it perform well in the show ring. Learn how to do nails and groom properly. Ask advice from people in the breed that have enjoyed some success. The vast majority will be very happy and willing to share their knowledge and success with you. You will learn from the people that you associate with, so pick them wisely. Evaluate your dog and its performance in the ring, then you and your handler need to be truly objective in picking the right shows and judges for your dog for it to do as well as it should.
Q: What makes a great handler?
A: First and most important is that they must truly love dogs. The very best handlers that I've known have a very good understanding of the breed standard for the breeds they were showing. Natural ability is a good plus, but doesn't do much good if he or she doesn't know what they have on the end of the lead. Many of our handlers today can be replaced by any high school track runner. They show their charges scooting around the ring at 100 miles per hour while holding the end of a 20-foot lead. If the dog is not perfectly ring trained with a mommy dependency, those handlers spend half the time untangling the lead and dragging the dog back into the ring. They do the down and back with so much lead hanging that it looks like a figure eight. Many exhibitors complain that we don't have enough handlers in the breed. You don't need eight jockeys when there are only three horses in the race.
Q: How can we create more interest in showing dogs?
A: I think that we all have to help regional clubs attract and keep new members and then go out of our way to make them feel wanted. Many of the people who purchased dogs from us have been encouraged to join local clubs depending on where they live, only to tell us that no one was friendly and that they felt out of place. I think this is an area to which the parent club should devote much time and effort. Most regional clubs no longer have training classes and no longer have to have sanction matches, two places many of our new members have come from in the past.
Jim Moses Interview quote/Sheree Moses, Kaleef German Shepherds
Jim is an extremely talented show man, one of a kind, with an incredible ability to get into a dog's head and maximize their performance; even now he is better capable of presenting dogs than most other handlers. I gave him a Dallas son from one of my best girls a few years ago and he finished Chaos himself in straight shows.  He is absolutely the BEST at planning a dog's show career.  He has an intuitive grasp of what a judge is looking for and if they have any predictable patterns in their judging.
Sheree Moses
Kaleef German Shepherds
Jim Moses
"Jim Moses is larger than life. His accomplishments in the dog show world make him a living legend. We are so happy that this article is being written to honor his place in the dog world, and not later. Jim is revered by countless people in our sport, meaning loved and with the deepest respect. The first time I ever saw Jim was when he brought Hatter to the shows in Tulsa, Oklahoma. I watched him all day, or should I say, the both. He put Hatter on top of his traveling crate, and on top of that was a garment bag. Hatter was perched on top, never taking his eyes off Jim sitting in the bleachers close by and Jim never took his attention off Hatter. Yes, he was watching judging, but it was evident that his mind was always on what Hatter was doing, constantly looking over to him.
Gene met Jim in the early 1980's, and as he says, 'I never saw him at the shows until he came into the Best in Show ring.' Gene has the utmost respect for Jim and we both consider him to be one of the very top people in our sport. His ability to recognize great breed type in any breed, and to verbalize the standard applied to that breed, makes him the most interesting person to sit and watch judging dogs. He is a great judge. The one thing that I would like to say about Jim, that makes him so endearing, is that he really loves dogs. Not just his top winner or top producer, but every dog that he can spend time with, and it does not have to be purebred. We feel very honored to call him our friend, and that the entire dog fancy has been blessed to have Jim Moses in our sport. He has mentored and taught so many people in our sport. We are all so much richer for his wisdom and talents. If you close your eyes and remember him on the green carpet at Madison Square Garden, magic. Pure magic. We wish Jim many more years of continuing to bless the sport of dogs with his greatness, endless knowledge, and love of dogs."
–Eugene Blake and Julie L Mueller
"I met Jimmy through a German Shepherd called Hanner. I was asked to handle him but turned it down as I felt that I could not do the dog justice in the ring. The owners hired Jim Moses to show the dog. I did not know who Jimmy Moses was at the time and had to go find out.
I first saw Jim show a shepherd, and I immediately knew why Hanner's owners reached out to Jim to handle. Jimmy has a knack of being able to supply judges with the dogs he think will win. Jimmy knows how each dog should look and what he needs to do to get that look, he was also a good marketer.
I believe that Jimmy was dedicated much more to the dogs than 95% of the handlers of his time in the ring as a handler.
We quickly became friends and over the years I learned a great deal about German Shepherds and the handling of them from Jimmy. Jimmy shared so much of his knowledge from experience and videos of German Shepherds being shown in their native Germany.
When discussing dogs over the years we agree 99% of the time. We are in tune with each other and still friends to this day. I really did not like to compete against Jimmy in the ring.
I think that many exhibitors, especially younger exhibitors, and those starting out, should attend Jimmy's seminars. I believe Jimmy's dedication to the dog show world and the dogs he judges is incredible.
Jimmy wants to be a great judge and continues to study.
If I had to send someone to buy a dog for me, Jimmy would be one. I would trust him to view a dog and buy it if he felt it was in his opinion a good one.
Jimmy is a tough judge to show to. I really admire his honesty when it comes to judging."
–Bruce Schultz