Crowned 100 – Ch. Special Times Just Right
by Mary Marshall
BIS Magazine USA June 2021 issue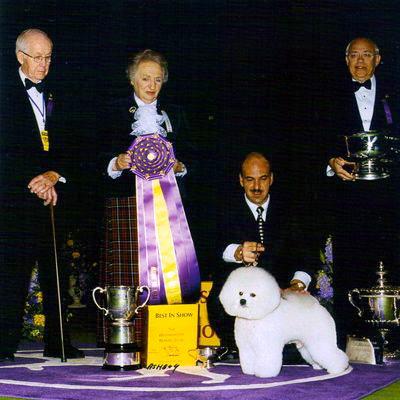 Ch. Special Times Just Right! fondly known as J.R., made Bichon Frise breed history by winning Best in Show at the 125th Westminster Kennel Club Dog Show on February 12, 2001. The then three-year-old J.R., weighing in at a mere 15 pounds, wowed the crowds and impressed judge Dorothy McDonald with his sparkling charisma, charm and overall perfection to be named the top dog in a ring full of spectacular group champions. It was the crowning glory for a wonderful partnership between J.R. and his handler Scott Sommer after entering the ring as the top ranked dog of breed in the country in 2001.
When the win was announced the plucky J.R. raced merrily in circles and was joyfully scooped into the arms of Sommer. J.R. began his signature paw wave to the hordes of photographers and television cameras on hand for the victory which spurred on his gesture that forever symbolized a dog's joy for a job well done.
"That's just one of the things he liked to do," Sommer said. "When he was happy, which was most of the time, he would do that. It was just part of his obvious charm."
J.R. not only made breed history but became one of the most well-known charismatic ambassadors for purebred dogs and dog shows throughout the country. His comical leap into the winning sterling bowl captivated millions of dog lovers throughout the world. The amazing J.R. broke records and earned a niche in Bichon Frise history for his breeder, owner, and handler that captivated a nation and introduced them to the breed. The charming attitude was his most distinguishing characteristic and fit the breed standard for temperament which states: "A cheerful attitude is the hallmark of the breed and one should settle for nothing less."
Following the BIS win at Westminster, it was announced that J.R. would be retired. At the time J.R. had accumulated 98 BIS victories. When asked by a New York Times reporter what would be in store for J.R. after retirement Sommer said, "He gets anything he wants. Around the house, we do what J. R. wants to do. We cater to him and he wants to please us any time he can."
According to the New York Times Macdonald said that J.R. was ''an absolute mirror of his breed's standard. He just epitomized what's correct in the breed. He was as close to perfection as you can get. His personality, his coat, his head, the very way he moved. I loved all seven dogs. They were excellent. But the other six were all second."
Among the other "six" were the prior BIS winning Kerry Blue Terrier Ch. Torum's Scarf Michael and the two-time Toy Group winning Shih Tzu Ch. Charing Cross Ragtime Cowboy.
"That was an incredible moment," said Sommer. "It was a little nerve wracking being up against Mick (Ch. Torum's Scarf Michael) but J.R.'s win was spectacular."
J.R.'s fantastic voyage could have easily been another dog's tale had it not been for his human family whose contributions played an integral role in his rise to fame.
J.R.'s breeder was Eleanor McDonald, who worked at an advertising agency in Scarsdale, New York. McDonald acquired her first Bichon in 1992 from breeder Mimi Winkler who recalled that she (McDonald), "wanted something else in life. She wanted a dog who could become her child."
McDonald began breeding dogs in 1993 and fell in love with the Bichon breed. She had many successful homebred Bichons but decided that she needed a top-drawer male to her kennel. She acquired a male from Brazil named Dream Came True's Oliver and introduced him to Special Times Temptation (Candy), a bitch that she already owned. The two became champions and ultimately were bred with great hopes for a spectacular litter from this special pairing.
Candy whelped on November 12, 1997 and to McDonald's surprise only produced one little whisp of a Bichon—a singleton who would eventually be named Special Times Just Right!. J.R.'s registered name was taken from a children's charitable organization in South Carolina called "Happy Days and Special Times." The second part of his name was added after McDonald figured he was "just right" after watching him prance around her home as a puppy.
It was obvious from the start that J.R. was something special. At the tender age of six months of age he started his show career. Due to the mounting expense of a dog showing campaign, J.R.'s first handler, Flavio Werneck became a part-owner as did Cecilia Ruggles, the owner of High Ridge Kennels in Ridgefield, Connecticut, and had prior experience showing Bichons. However, McDonald enjoyed flying with J.R. to dog shows and had him tucked safely in a traveling bag for the journey.
J.R. was a hit from the moment he stepped into the ring. He won his first national specialty at six months of age, and his initial Award of Merit under judge Jane Forsyth. He captivated judge Frank Sabella and won the BFCA Nationals in Long Beach, California. By the end of 2000, J.R. had won 73 BIS, 149 group wins, and a group second at Westminster, and was named the number one dog in the country in 2000 and the top winning non-sporting dog of all time. Within 14 months leading up to his entrance into the ring at Westminster in 2001 the spunky Bichon had accumulated 98 BIS wins.
Sommer reflected on the qualities that made J.R. a star in and out of the show ring.
"He had charisma, charm, buoyant energy and was an over-the-top dog," said Sommer, reminiscing. "He loved everyone, and was so full of happiness, joy, and exuberance. He was just a great dog in every way—perfection. J.R. had great eyes, a big black nose, stunning black pigment, a fantastic coat, and just floated around. He was the epitome of what the breed should be in every way. He was physically an equilateral triangle which is exactly how the breed should appear."
J.R., like so many celebrated sports stars, got accustomed to winning according to Sommer.
"He would get really wound up with all that tremendous energy," he said. "He would anticipate winning and start whirling around before the win was even announced. I worked with him in and outside of the ring and taught him how to quiet down."
J.R., like every dog, champion or not, pulled certain little tricks that might or might not endear him to the receiver of the prank.
"We were staying in a hotel at a dog show, and I figured J.R. would be just fine loose in the room when I went out for a brief dinner," said Sommer. "Boy, was I wrong. I came back to the room and discovered that J.R. had chewed up my wallet with all the money in it. I had to call Eleanor and ask her to wire me some money, because every dollar I had was in that gnawed up wallet."
Following the celebration of his win at Westminster it was decided that J.R. would retire and live with Sommer as a pampered house dog. Well, that didn't last long.
"We just wanted J.R. to be part of the 100 BIS show club," said Sommer. "He was such a great dog, and there was no reason not to go for it."
J.R.'s retirement amounted to a refreshening and off he went to accumulate three more BIS titles on his way to collecting a record 101 Best in Show titles. On March 31, 2001 he was awarded BIS at the Brazos Valley Kennel Club by Mr. James Reynolds, on June 30 at the Shoreline Dog Fancier's Association by Mrs. Michelle Billings, and his final appearance in the ring at the first AKC Kennel Club Show (now Royal Canin) on December 12, 2001 with Ms. Dorothy D. Nickles officiating.
"That was a show to remember," said Sommers. "It was the first AKC Kennel Club Show (in Orlando) and J.R.'s 101st Best in Show victory. What a great way to close a great career with 101 BIS awards!"
In a sad twist of fate neither McDonald nor Werneck would live to see J.R. win his 101st BIS. McDonald died unexpectedly from a stroke at the age of 66 in October 2001, and his former handler Werneck, was killed in a car accident in Brazil coming home from a dog show.
Following retirement at Sommer's Houston, Texas, kennel J.R. went on to promote Ttherapy dog programs and the Canine Health Foundation among several charities. He lived a long and charmed life with a bevy of delightful dog companions that included the 2009 Westminster Best in Show winner Ch. Clussexx Three D Grinchy Glee, better known as Stump the Sussex Spaniel. Stump, like J.R., was the first of his breed to win the honor and at 10 years of age the oldest dog to ever accomplish the feat.
"Stump and J.R. were the best of buddies," said Sommer. "They would race around the house together and hang out on the couch. It was a great friendship. In fact, J.R. and Stump died a week apart. Stump died on September 12, 2012 and we lost J.R. on September 19 at the age of 15."
J.R.'s record-setting 101 BIS wins was followed by an impressive career as the sire of over 20 champions in his first two years at stud. He was named the top Bichon sire for 2002-03. His progeny eventually included over 60 champions, and a legacy that continues through his enduring contribution to the breed for all time.