BonaVenture Labradors
Tom & Gail Shearer
Meet the Breed: Labrador Retriever
BIS Magazine USA June 2021 issue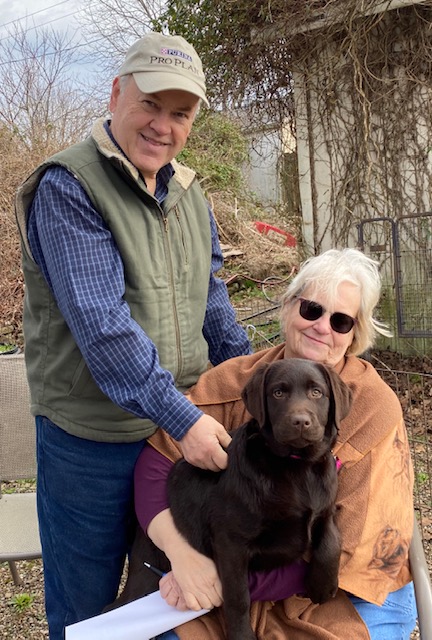 Q: Tell our readers about your beginnings and how you got involved with Labrador Retrievers?
A: I grew up on a 300-acre beef and dairy farm in Winchester, Kentucky. Having been around dogs and farm animals from a young age I developed a great love of animals and their care. Through 4-H and horse shows I knew that I wanted to be involved in the world of animals. Always wanting a Labrador, that dream became a reality in 1985 with Daisy. She was not exactly the best conformation dog, but she had the heart of a Labrador. The style I most admired was in England. I contacted Janice Pritchard of the Charway affix for a puppy. She told me about one of her stud dogs that was recently imported into the U.S. and how to contact his owner, Sally Kelly, Kellygreen Labradors, for a puppy. There was a litter in West Virginia with Bonnie Hall, Luger Labradors, and a puppy was brought to Kentucky and became the beginning of BonaVenture as we know it today. Belle is still in BonaVenture pedigrees today.
Gail had dogs all her life but never was involved with breeding or competition. They were the family pet that most of us had growing up. For many years Gail, originally from Detroit, Michigan, would attend the Detroit Kennel Club dog show–one of the few benched shows in the U.S. at that time. It was a good venue to be able to meet several breeds all in one place. It was in the Labrador aisle that Gail knew this was the dog for her. It would be several years before one came into her life. In 1989 she acquired her first Labrador. She raised her first litter was in 1991 at the age of 38. We were both in dogs about the same amount of time yet on different paths in the beginning.
We (Gail and I) met at a Labrador specialty in August of 1995. We remained friends and competitors until 1998 when we married and began breeding under the BonaVenture kennel name. We had developed the perfect Labrador in our minds and knew that type of dog was in England. So, for our wedding present in 1998 we imported two dogs from the Rocheby Kennel in Styrup, England. The Rocheby line has long been admired for their strong conformation and great temperament. Monty and Dash were brought to Kentucky and have made a huge impact on the success of our breeding program.
We both had mentors in the breed. They became our best friends and remain so today. The one thing we have learned about this sport is the group of incredible people in the breed are most willing to share their knowledge. There is a wealth of knowledge to be had about breeding. Most of our knowledge came from these friends. Now, breeders can get information from websites. While most of it is good it is always a better idea to find out firsthand with someone who has experienced your issue.
Our breeding program together started in 1998. A lot of people have blended families when they marry. We had a blended kennel.
Q: What is the meaning of your kennel name?
A: BonaVenture loosely translated means 'good fortune'. We certainly have had that and more.
Q: Do you work closely with and co-own with other kennels?
A: We work closely with a couple of other kennels. They have several of our dogs and most are co-owned. We keep several stud dogs as our lines tend to produce top males. Over the years there have been outside stud dogs that have had qualities that we wanted to incorporate in our lines and going outside was the right thing to do. The Labrador gene pool is vast and varied. Knowing what a certain dog can produce with your pedigree is key to improving a breeding program. We generally do not place puppies on an open registration unless it is someone we know and want to work with.
Q: Tell our readers about the Labradors that have made a lasting impact on your breeding program.
A: The strongest line we have goes back to Ch. BonaVentures Clipper. He was line bred on one of the greatest producing Labradors in recent years Ch. Dickendall Arnold JH. Because he was a dominant black, he was not real popular as a stud dog until he sired Windy, BISS BIS AM/CAN/ENG Ch. GCH Clearcreek BonaVenture Windjammer JH and BISS BISSW Clearcreek BonaVenture Cutter WC. Remember the Rocheby bitch imported from England as a wedding present? These were her great grandchildren. It took four generations, but we finally produced what we consider the perfect Labradors, at least in our eyes. Clearcreek Labradors and Elizabeth Martin had gotten several dogs from us and she was one of the very few we trusted with the line we imported from England. Windy and Cutter were co-bred and campaigned with Liz in the U.S. and with Margaret, Andrew, and Mairi Brown of Ramsayville Labradors in Scotland. Cutter was Best in Specialty Show at 17 months of age and then he injured himself and could no longer compete. Windy carried that breeding forward by becoming the first American-bred Labrador to return to England and become an English show champion. Along the way she was a 15-time best in specialty show (AM/CAN/ENG), 5-time best in all breed shows in Canada and number one Labrador in Canada for 2009, Westminster Kennel Club Best of Breed winner (pulled out in group) in 2012 and Best in Specialty Show winner at the Labrador Retriever Club of the Potomac in 2012 defeating over 1,100 Labradors for that honor. Windy and Cutter have left their mark on the breed. It was extremely rewarding to have accomplished so much with one breeding and having the opportunity to show them.
We crossed Clipper's line (which was dominant black) to a chocolate line that goes back to our stud dog Epoch's Edward of BonaVenture. This created Ch. Hightide BonaVenture Cap'n Jack who was a stud fee puppy from one of Clipper's first litters. CJ was very influential in our breeding program especially with chocolate. He produced the same outline and movement as Clipper, Windy and Cutter but introduced the chocolate gene. One of his first offspring, a beautiful girl produced by Sheabourne Labradors, Sheabourne's Precious Angel, went BOB at the Florida Labrador Specialty her first time in the ring at six months of age under respected breeder judge Nancy Arbuckle of Hunt Club Labradors.
Although Cutter, due to his injury, never went on to finish his championship title, under the care of Peggy Parries he recovered and proved himself as a prolific stud dog. His son, CAN GCH BonaVenture Black Badger WC was sent to Greg and Susan Trigg in Canada as a four-month-old puppy and has never looked back. Again, the same physical outline as his ancestors.
Q: Do prefer linebreeding, inbreeding or outcrossing, and why?
A: We do believe in linebreeding. We have had a tremendous amount of success with this. We are extremely fortunate to have a line of dogs that are sound on orthopedics, genetics, and temperament. Without these qualities I would not recommend doing any tight linebreeding. If you have an Achilles heel in your pedigrees (such as bad bites, low tail sets, high ear set) we would not recommend doing a tight line breeding. You will more than likely produce puppies with the same issue because it has been doubled up in the pedigree. If you have something in your pedigrees that you want to change, find a pedigree that consistently produces well on whatever you want to fix. It may not happen in one breeding, so patience is key here. First and foremost, be true to the type and style of Labrador you want to breed.
Q: What are some of the most notable wins by Labradors that you have bred?
A: Dogs bred and owned by us have won Best of Breed at the Labrador Retriever Club of Potomac, Reserve Winner's Bitch at Potomac, Best in Sweeps at Potomac, Winner's Dog at Potomac, and Best of Breed at Westminster Kennel Club. These were incredible wins due in part to the size and competition at these shows. There are multiple other specialty wins whose memories we will have with us forever.
Q: Do you compete in field competition with your Labradors?
A: Our dogs do work in the field. As we have aged, we no longer venture out in this venue but are happy our dogs and their owners do compete with our pedigrees in the field. The retriever drive is so important and is still very evident in our puppies. We primarily utilized the Working Certificate program that is a basic retrieving instinct test. One bird on land and two in water. Designed to show the willingness to retrieve. Doing field work with a dog is a great bonding experience for both owner and dog. It can be extremely rewarding.
Q: Do you have any current young dogs that inspire your future show ring aspirations in Labradors?
A: We are so fortunate that we have frozen semen for so many of the mentioned stud dogs. This past year we were able to use some breedings with Clipper and Cap'n Jack. We were blessed with five puppies from Clipper and eight puppies from Cap'n Jack. We kept a pair from each. They are still young, but we see the same outline that their sires had. We can only hope this will prove to be a great decision and that lightning strikes twice and maybe even three times!
Q: What is your favorite show and why?
A: Our favorite show is the Labrador Retriever Club of the Potomac. This specialty show is held each spring in Frederick, Maryland. With an entry over 1,000 Labradors, it was voted the best specialty in the country with the AKC. If Labradors are in your future, it is worthwhile to go and see the most spectacular Labradors on the planet. This show has evolved into a huge international event with many countries represented. Mentoring is available through the parent club at this show and it is an excellent learning experience.
Q: What is your philosophy on the Labrador breed standard?
A: The breed standard of the Labrador Retriever is lengthy and very extensive in what a Labrador is and is not. We respect what the standard says. We understand its function and generally breed according to its guidelines. Dogs should not be massive and overdone. Nor should they be light and weedy. We have somehow evolved into two types of Labradors, English, and American style, when there should not be a distinction. There is only one standard. It is a blueprint for breeders based on what the parent club deems as correct and is for all Labradors.
Q: What are the most important physical qualities for a Labrador Retriever?
A: For many the term 'head, coat and tail' is the definition of a Labrador. We happen to agree. These are very distinctive traits of the Labrador. The melting expressions and kind eyes, the fabulous coat that keeps them dry in the coldest of waters and the magnificent otter tail that is the rudder. These make the foundation for a great Labrador along with proper structure and proportion.
Q: What are qualities that a Labrador Retriever should not have?
A: We do not tolerate a bad temperament under any circumstance. The Labrador should never be aggressive. Shyness is something that should not be tolerated.
Also, the disqualifications in our breed are specific. Height, thoroughly pink nose, no eye rim pigmentation, no docking of the tail, and no deviation from the colors of black, yellow, and chocolate as described in the standard.
Q: Do you think genetic testing has progressed in Labradors, and what are the issues that still need to be addressed in the breed?
A: There are many companies offering genetic health testing at competitive, low-cost rates. There is no reason not to test a dog considered for breeding. We do OFA Certifications for hips and elbows, eye certification with a board-certified ophthalmologist, heart clearances with a board-certified cardiologist and most of the genetic trait tests that are available (PRA, EIC, HNPK, DM, CM, etc.). These tests are all tools that any breeder should utilize to make good breeding decisions and avoid creating a puppy with an issue.
Tricuspid Valve Dysplasia is still an issue in this breed. Performing a heart echo on a dog only determines that the dog being tested is clear. It does not, unfortunately, tell us if the dog is a carrier. But it is the best we have right now. Several organizations have been and are working on developing a genetic marker test for TVD. It would be a great service to this breed to have this information.
Q: Do you think there are distinct difference between Labradors in the United States and Europe?
A: There is a difference in dogs between here and Europe. Not necessarily bad or good either way. Americans tend to breed a stockier dog with sometimes more head than what we feel is appropriate. Labradors in England tend to have just a tad more leg, a much better reach of neck, and a very good neck into the shoulder. Recognizing this and utilizing all that is available in the way of reproduction, we can get some of those pedigrees to work nicely with each other.
Q: What are your thoughts on Labrador Retrievers as service dogs?
A: Labradors are so intelligent they are sought after for service work in a big way. To be able to give a blind person the gift of independent mobility with a service dog is second to none. All the service programs (Diabetes and Epileptic alert, PTSD therapy dog, mobility assistance) are all great options for a service dog. Whenever an animal can help to improve someone's life it is a good thing.
Q: How has the breed changed over the years, and do you think it is a positive change?
A: The breed has changed immensely starting with the last breed standard change in 1994. The disqualification concerning height was the most impactful on the breed. It has taken many of us several generations to work on improving the height issue. Fortunately, there is much less use of the wicket being done in the conformation ring than when the new standard was first approved. The key should always be balance and correct type in the Labrador. For the most part the breed has moved forward, and the dogs being produced today are healthier and better representatives of the breed than 25 years ago. There are a lot of good breeders doing really great things right now in Labradors. It is a great time for Labradors in the sport of dogs.
Q: What is your visual perception of the ideal Labrador?
A: The ideal Labrador should have a kind and melting expression with correct eye color. Correct eye shape, length of muzzle and a broad back skull should all be evident. Correct double coat (harsh to the touch and some wave is acceptable), short coupled with a tail right off the back. Short hocks also give a much prettier picture from the side. And, of course, they need to have good movement. The Labrador will never have the movement of a setter or a spaniel, but they should move effortlessly both coming and going. And, of course, the correct temperament is paramount.
Q: What are your thoughts on two types of Labradors being identified as American field and English type? Do you think they will evolve into two different breeds?
A: We are not sure there would ever be a time that the breed would be split. We are more concerned with the breeding of dilute Labradors (silver, charcoal, and champagne). These 'designer' colors are only hurting this breed (and several others). We need to better educate the public, so they understand what's at risk when there are color mutations.
We can see the breed having a special designation for a show champion such as an AKC show championship which would include having a basic field title. This is done in England and several other countries. Retrievers should retrieve.
Q: What are the most important attributes of the breed?
A: Type is paramount when looking at a Labrador followed by head, coat, substance, and movement.
When looking at a dog it is important to look at the whole dog.
Q: Who are your three favorite dogs bred by you, and three neither owned nor bred by you? Which dog is your ideal?
A: Bred by us; Ch. BonaVenture's Clipper, Ch. BonaVenture's Borowick Mahogany WC and AM/CAN/ENG Sh. Ch. Clearcreek BonaVenture Windjammer JH.
And not owned or bred by us (but wish they were): ENG Sh. Ch. Rocheby Polkadot, three-time BOB winner at Crufts), Ch. Lenche's Teddy Bear, BOB winner at Westminster, Ch. Lubberline Martingale, also a BOB winner at Westminster.
Our closest to the ideal Labrador would be Windy.
Q: What advice would you give to people who are new to the breed?
A: If you are new to this breed, get involved. Find a Labrador club near you. There are people there that are always willing to share information and help point you in the right direction. Go to shows and trials and decide which style of dog is for you. All of us that have been here for a time want our breed to go forward. Get yourself a good mentor. We had several and they are still our best friends today. And above all, enjoy what you are doing.