Dickendall Labradors
Kendall Herr
Meet the Breed: Labrador Retriever
BIS Magazine USA June 2021 issue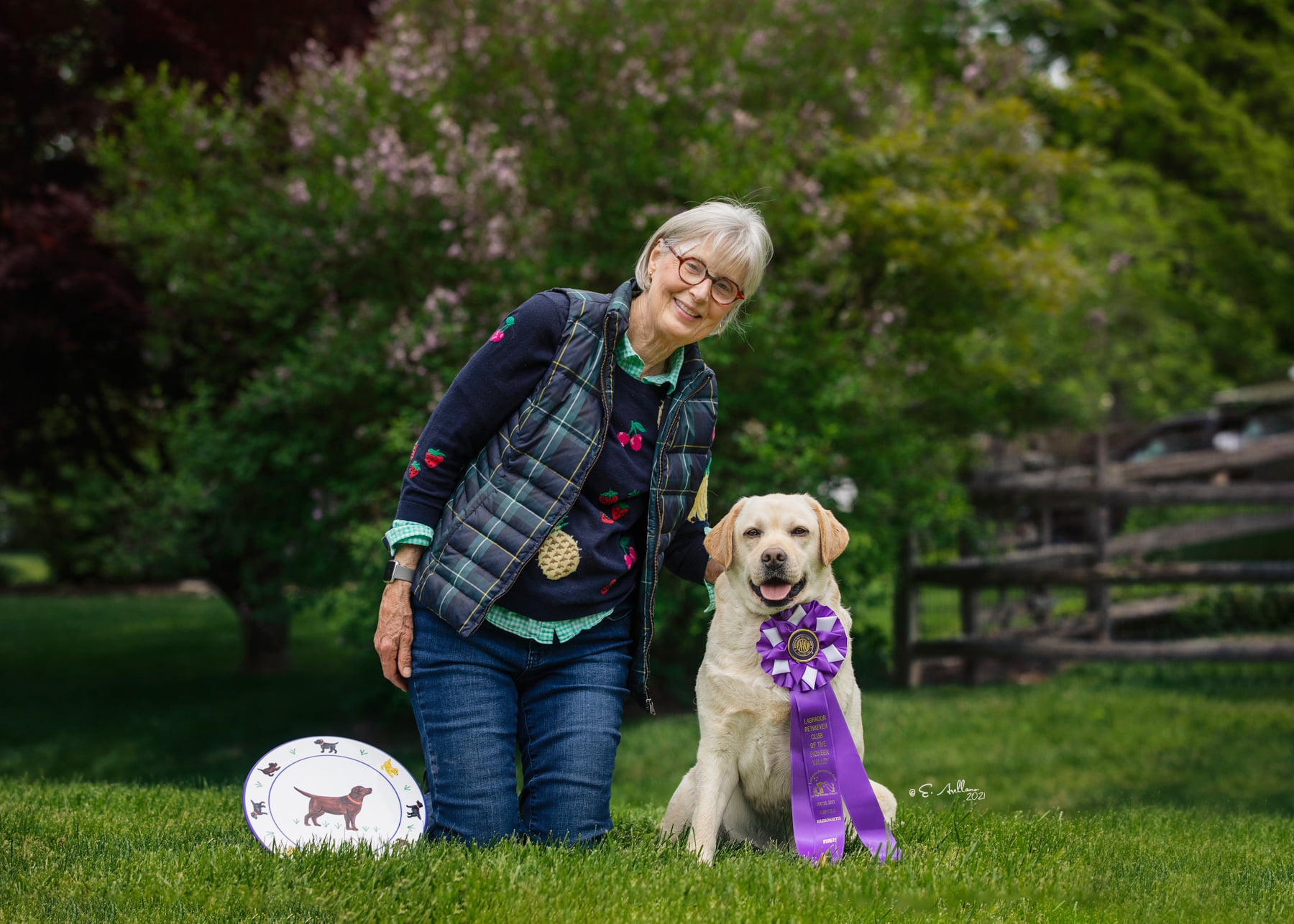 ABOUT BREEDER
Q: Can you give us some background on yourself? When and how did you start to breed Labrador Retrievers? How old were you and how did it all come about?
A: I got my first Labrador in 1963. Dick wanted a dog to hunt with, so he decided on a Labrador. Dick was attending the University of Wyoming at the time and we found a dog in the newspaper for $35. I was intending on buying a yellow and came home with a black. I wanted to have puppies because we are just animal people. I didn't know a thing and bred her to a dog from a local kennel. I knew the puppies were terrible but didn't know why. I then met Margaret Crothers who lived a few blocks away. I went to go see a litter she had advertised in the newspaper. Her dogs didn't look a thing like mine. She took me to my first dog show which opened a whole new world to me and made me want to learn everything I could about the breed.
Q: What is the story behind your kennel and your kennel name? How many litters have you had so far? When did you breed your first litter?
A: My kennel name is Dickendall, which is just my husband's name, Dick, and my name, Kendall, put together. I was in an obedience class and the instructor said I needed a kennel name to put on the graduation certificate. It was a quick decision as I had never thought of having a kennel name. I bred my first litter in 1969. My first champion was whelped 10/20/1970 – Ch. Dickendall Flip Flop CDX. I remember that because I had to write it so often on entry forms.
I have no idea how many litters I've had. I don't breed a lot. I only breed to get something to show and go on with, hopefully. Out of ten puppies I keep and run on for five months to a year, only one may make it to stay.
Q: What is your breeding policy? Do you work with other kennels, have joint ownerships? Do you use stud dogs from other kennels, or do you prefer to use your own dogs?
A: I have done breedings with Faith Hyndman, Buckstone Labradors, for years. She likes bitches and I like dogs, so we've shared successfully. I have a few longtime good friends that I also work with.
I will use any stud dog I like that I think will compliment my bitch. You can't stay in your own kennel forever and I prefer to outcross. It is great to use your own dogs as you know everything about them and have personally seen and lived with many of their relatives so you have a better idea of what you will get. This isn't always possible as pedigrees can be too close for me and with DNA testing, it is sometimes impossible to do what you would have done in the past. This can make going outside your kennel a must.
I've been fortunate enough to borrow some nice stud dogs that I have felt will add to the quality of my kennel.
Q: Which dog do you consider the foundation of your own breeding?
A: I really don't think much about having a line but more about the individual I have and its type or structure. If I have a litter I don't like, they can all go, rather than keeping the best of a disappointing litter to just keep a line going. What you have today is more important than what you have years ago, and hopefully they are much improved now.
Ch. Dickendall Arnold is still in many of my pedigrees.
Q: What kind of selection do you prefer in your breeding program linebreeding, inbreeding or outcross?
A: I would prefer to outcross. I don't especially breed from a pedigree, but on what the individual dog needs and on the look of the dog. I look for individuals that complement each other–where they may be strong where the other is weak. A dog I find attractive with all the criteria I am looking for is what I want to breed. I'm not that concerned about the pedigree. When I find a dog that I want to breed to, I then look at the pedigree. Hopefully it isn't too close, and its DNA testing compliments each other. If you are considering line breeding or in-breeding you need to be doubling on dogs you personally know (not just famous names on a pedigree) and have seen and know their temperament. You should be also sure when you are line breeding that you are concentrating on only outstanding representatives of the breed.
Q: What would you say was your greatest achievement as a breeder so far?
A: Staying in this crazy hobby for so long.
ABOUT THE BREED
Q: How do you interpret the standard? Do you accept that other breeders have a different point of view as to what the Labrador should look like, or is there just one correct type?
A: The standard was rewritten in 1994 much to the dissatisfaction of the show enthusiasts. It is negative, wordy, contradicting and very unclear to get a picture of what a Labrador Retriever should be. It is no wonder many new breeders as well as all around judges are confused. It should be redone.
The disqualifications are so distracting to new judges and most are things that you would never see in the ring. The old standard was mostly fine.
Every breeder puts their own spin on things. You can see kennel type within the breed, but still conforms to the standard. This is to be expected with so many people from so many countries with different ideas of what is correct and not correct. There are also at least three different standards. Every breeder has a little different vision of what they like and what they want to emphasize.
Q: What three qualities do you think are the most important when you look at a Labrador?
A: Type (head, coat, and tail), balance, and angles.
The key factors that make a Labrador typey or unique from any other breed are the head, coat, and tail. The head, coat, and tail must be hung on a proper frame or structure which creates the outline of the dog. The outline determines the entire look of the dog and is essential to breed type. Balance is essential to making the picture correct and is influenced by length of leg and front and rear angles. Angulation has a great influence on the outline making the balance and shape correct. Not only do angles make the picture right but they are essential to proper function.
Q: Which faults would you not tolerate in your breed?
A: Poor temperament should not be tolerated. The great temperament and trainability for many activities is what continues to make the Labrador such a popular breed. All dogs have faults and failings, it depends if the virtues are strong enough to carry the faults they have.
Q:  On the health front there is good work going on to address health problems. Many breeders test their dogs. Is there more work to be done? What health test do you consider necessary to have for mating your Labs? How would you rate health in the breed?
A: The health testing is a great tool to help breeders to breed healthy dogs. I think the dogs are much healthier and in better condition than the dogs in the past –due to testing and better-quality food. I'm not sure the EIC test is correct as there are so many dogs that are tested carriers that we must have been breeding carrier to carrier before testing. There are relatively few Labradors that actually collapse considering the high number of carriers. There must be a trigger gene or something and the test should have more research done with it to provide a more accurate picture of health.
You can test yourself into mediocrity. There are those that only look for an all-clear dog to breed to instead of a good dog that will improve their bitch. This, if done too often, can lead to a downhill slide in overall quality of the breed. The tests are tools to make it possible to build a good dog who is a carrier to a clear of that problem to never get an affected. Hopefully if very lucky, you can breed it out. The DNA tests are just another tool to use and we should always be breeding outstanding individuals. There is no point in breeding a mediocre dog just because it is clear.
I require passing hips, elbows, eye clearance within the year, PRA, EIC, HNPK, dilute testing on the gene testing for my boys to be used.
Q: Would you say there is a difference in dogs and dog type in Europe and USA?
A: I haven't been to Europe in a while. I think the European dogs may have less substance than the American dogs. This generalization depends on the individual breeders. I think many Europeans (Russia, Poland, Ukraine) are doing a really good job of breeding currently.
Q: What makes them so versatile and popular? Is that a good thing for the breed or a bad thing?
A: Temperament. The Labrador can do anything. They are real people dogs, biddable, anxious to please, sensible, and trainable. After you've had one there is no other breed. They are super family dogs and can be trained for many things. I don't think the popularity is a bad thing. Popularity in a breed is bad when they become popular for not a good reason–as if owned by someone famous, in a movie, or something like that. Because that breed may be difficult to live with or hard to train and then many of these dogs are poorly researched and end up in the shelter.
Labs are usually in forever homes and after you've had one, you need another.
Q: How has the breed changed over the years? Would you say we have evolved for the good or for the worse?
A: Structure and angles have improved greatly. Style comes and goes. In the US, the style seems to be radically short legs. Most people I think realize this is a problem and I think things will swing back to good leg to body balance. I think front end assembly is also problem. It is hard to understand and most don't. After you do understand it, it is hard to look at a poor front.
Q: Can you, in your own words describe an ideal Labrador?
A: Type – A dog that looks like no other breed.
A kind, sweet expression, the unique stuffed animal look obtained by the double coat with a thick undercoat that fills in and rounds out any angular look. They must have a good spring of rib, never slab sided, a deep body and short loin. Good bone that runs right down through the foot with equal bone front and rear.
Never light boned or weedy. A pronounced sternum, well filled in brisket, front legs set well under the body, wide thighs, and well-turned stifles. Enough neck to balance the dog blending gradually into a level topline with the otter tail coming right off the back. They must be a sturdy dog, balanced throughout.
The key factors that make a Labrador type or unique from any other breed are head, coat, and tail. This head, coat, and tail must be hung on a proper frame or structure, which creates the outline of the dog. The outline determines the entire look of the dog and is essential to breed type. Angulation has a great influence on the outline, making the balance and shape correct. Not only do angles make the picture right, but they are essential for proper function. A well angulated rear is needed for leverage to drive the dog. This requires good length of upper and lower thigh. The longer the bones, the more space there is for muscle attachment. The heavy muscling gives the desired chunky, strong look to the hindquarters. As the rear pushes the dog, most of his weight is supported on the front-end assembly. Ideally, a Labrador should have a well angulated scapula and humerus. They work as shock absorbers for the joints and front leg that hangs off the end of the humerus to cushion impact on the joints. Many mysterious lameness problems are caused by lack of angulation that creates pounding stress on the joints. The humerus and scapula should be equal in length. When they are of equal length and proper angle, the back of the front leg will drop them under them with placing the front leg well under the withers. A short, straight humerus causes the front leg to come off the front of the body. This creates an atypical Foxhound or terrier type outline. Having a short, straight scapula will give the appearance of a short neck from the head to the back, and a long underline from the throat to the body.
There are many degrees and variations on bone structure; and this is, of course, an oversimplification of the not-so-simple subject of structure. The angles and the outline they create are as essential as head, coat, and tail when creating the ideal Labrador and in the end are the determining factors when separating the men from the boys.
Q: Are Labradors becoming separated into "Show" and "Field" type? What is your opinion on that? Should field dogs be to the standard, and should show champions demonstrate field ability?
A: They have been separated for a long time. Most show dogs can do a good job with field work. But few field trial dogs can ever become a show champion due to their extreme deviation from the standard. The field trials have gotten very extreme and the field trial dogs are bred to the job without consideration of how they look. Both should work and conform to the standard, but it's not going to happen.
Q: In order of importance how would you lineup movement, head, coat, substance, and type?
A: All are equally important. Without a combination of proper movement, head coat, substance, and type, you don't have a Labrador. As in a recipe, without all the ingredients you don't have what you are trying to bake.
Q: Please name three of your all-time favorite dogs bred by you and three not owned or bred by you.
A: Just like children, you can't have favorites. They are all special in their own way. I've owned so many lovely dogs, it is hard to name names.
My current favorites are, GCH Ch. Dickendall Buckstone Hou's He, Ch. Dickendall Churchill, and GCH Ch. FRED CD BN RE SE TKA, the Border Terrier.
As for dogs not bred by me, I've been lucky to lease many of my favorites for a time and they've all added quite a lot to my breeding program to produce the dogs of today.
Q: Which dog of yours comes closest to your ideal?
A: Still working on it.
Q: What advice would you give to a new person in the breed?
A: Read everything you can get your hands on about Labradors, structure, health, and other breeds. Visit as many kennels as you can, talk dogs, look at their dogs. You can learn something from everybody. Ask questions. Dogs look different in person than in photos. Attend as many shows as you can. Obedience train your dog. Get at least a CD. You will learn and bond with your dog and acquire knowledge to help your puppy buyers about training in the future. Join an all-breed and specialty club. Volunteer to help. you will acquire a world of knowledge through helping. You never stop learning and evolving in this wonderful hobby. You will meet great people and go places you never imagined you would visit. Keep an open mind and soak up all the information you can.